Handset applications are an exciting market:
Q&A with SanDisk co-founder and president, Sanjay Mehrotra

Josephine Lien, Taipei; Steve Shen, DigiTimes.com [Friday 2 March 2007]

SanDisk not only serves as the world's largest vendor of flash-based memory cards, but also plays the role as a wafer maker, enabling the company to streamline all processes from upstream NAND flash chip manufacturing, to memory card production, channel establishment and the implementation of marketing strategy. It's ability to precisely manage each key important sector has made what SanDisk is today.
However, the company recently unveiled a number of cost-cutting measures to cope with an oversupply of NAND flash chips. In addition, it also faces increasing competition from Intel and Samsung Electronics. Company co-founder and president, Sanjay Mehrotra, offered his views and insights of the NAND flash market and SanDisk's future deployment during an exclusive interview with DigiTimes.
Q: How would SanDisk assess the memory card market for 2007 as from the point of view as the world's largest vendor?
A: Handset applications are increasingly becoming an exciting market for memory cards since handsets featuring a memory slot began to proliferate two years ago. In 2007, the global market for handsets with an expandable memory slot is expected to top 400 million units, indicating innumerable business opportunities for memory card makers.
Since more functions such as MP3 playing, DSC (digital still camera) functions, and video playing are incorporated into small-size handsets, demand for memory cards is growing rapidly and so does demand for high capacity memory cards. As of 2005, memory capacity of microSD cards sold in the retail channel already reached 700MB, and we expect capacity growth for memory cards will continue to accelerate in the future.
Q: What are the penetration rates of SanDisk's SD cards in the global memory card market and its microSD cards in handset applications?
A: Based on data from the NPD Group, SanDisk's SD cards currently account for 60% in the US market, whereas its microSD cards hold a 85-90% share in the US and a 50% share in Asia.
Q: What is your expectation for SanDisk's MP3 player since the product still lags far behind Apple's iPod and now also has to compete with Microsoft's Zune?
A: Although Apple's iPod is still leading the market, SanDisk's music player is currently the number two seller in the US. Statistics compiled by the NPD Group showed that Apple accounted for 56.6% of the MP3 market in the US in November 2006, whereas SanDisk accounted for another 33.4%, while other brands, including Sony and Samsung Electronics each had a single-digit market share. SanDisk aims to take up a 30-35% share of the global market for MP3 players.
Q: What advantages does SanDisk have for the development of its music player?
A: SanDisk not only has its own fab for production of NAND flash, but also is a leader in the NAND flash industry. More importantly, we also operate downstream channels with strong marketing capability. In other words, we are able to control a streamlined operation, from upstream NAND flash chips production, to creating new applications, and to manufacturing and marketing of end-products.
Additionally, we are able to offer a complete lineup of MP3 models to meet versatile demand from different customers, making product differentiation another advantage of SanDisk.
Q: SanDisk has been very successful in the development of memory cards due to its capability to be in line with the latest industry standards. What made SanDisk decide to pour into the development of SD cards after it introduced the CF (CompactFlash) card?
A: SanDisk launched the CF card in 1994 and then it cooperated with Siemens to jointly develop the MMC (MultiMedia Card) since the size of the CF card was too big to be fitted in increasingly smaller consumer electronics products. The MMC card also replaced the SmartMedia card later on.
However, since the MMC still lacked essential functions such as data encryption and digital rights management (DRM), SanDisk decided to cooperate with Toshiba and Panasonic to jointly develop the SD (Secure Digital) card, demonstrating SanDisk's participation in forming many industry standards for memory cards.
Q: Is there any possibility of MMC standards being incorporated into applications for handsets since the market share of SD cards has been continuously expanding?
A: No, not at all. The microSD card is better than the MMC models as far as product specifications are concerned. In addition, the world's leading vendors such as Nokia and Motorola all support the microSD standards.
Q: In addition to setting up various standards for memory cards, SanDisk also joined Sony in the formation of Memory Stick standards. Why?
A: When Sony approached us for cooperation, there were problems related to IP and NAND flash technologies and the design of memory cards. Sony and SanDisk have recently jointly launched the Memory Stick micro (M2) cards for handsets, with the size of the new card equaling to one-fourth of its predecessor, the Memory Stick Pro Duo, and reducing power consumption by 40%.
Q: Would SanDisk try to persuade Sony to join the club for SD cards, aiming to optimize the applications for both SD and Memory Stick technologies?
A: No, we will support Sony's efforts to develop its own specifications. SanDisk, in its capacity as a specification designer and marketing specialist of memory cards, will support Sony with needed technologies such as NAND flash, which will allow customers to choose the specifications that fit their needs.
Q: How can US-based SanDisk cooperate successfully with Japan-based Toshiba in the development of NAND flash technology?
A: Toshiba is the inventor of the NAND flash, having a number of advantages in related technologies and patents. However, Toshiba also acknowledged that the multi-level cell (MLC) process will become the mainstream process for the production of NAND flash chips in the future. SanDisk owned related MLC technology even before the introduction of NAND flash, and so there was an opportunity for cooperation.
The cooperation, which has lasted for seven years, has allowed the two companies to optimize applications for NAND flash by leveraging Toshiba's NAND flash technology and SanDisk's MLC technology. The two sides contributed a 50-50% share of capital to build wafer production facilities and each enjoyed 50% of production output. I think that the SanDisk-Toshiba tie-up is the most successful model for strategic alliance in the global semiconductor industry.
Q: But Toshiba is also selling its own-brand memory cards, positioning itself as a competitor to SanDisk. How can the two companies cooperate, and also compete, with each other?
A: Certainly, we are competing with each other in some ways. In short, it can be said that SanDisk and Toshiba are cooperating in the development of technology and process for NAND flash, but are rivals with each other in sales and marketing, which actually has not affected our cooperation.
Q: In addition to Toshiba, does SanDisk also plan to cooperate with other major NAND flash players?
A: It depends on the context of cooperation. For joint investment in new plants, we definitely will cooperate only with Toshiba. But for the purchase of NAND flash chips, we already established a long-term relationship with Samsung Electronics. Basically, we use NAND flash chips produced in-house and purchase chips from Samsung if the production in-house falls short of demand.
Generally, about 70% of NAND flash chips are produced in house and the remaining 30% are bought form other suppliers, but our self-sufficiency rate for NAND flash chips reached 90% in the past six months.
Q: Can you talk about the acquisition of Msystems? What made SanDisk team up with Msystems?
A: SanDisk has been focusing on own-brand products and Msystems has been strong in OEM business, but the two companies are both innovation-oriented and share a similar corporate culture. Moreover, the two companies complement each other in product lines and marketing since SanDisk concentrates on sales of plug-in memory cards on a strong brand name and established channel, while Msystems offers built-in solutions for OEM clients. We also expect the merger will result in the introduction of new products more efficiently.
A: But the deal has resulted in a loss for SanDisk in the first quarter after the merger due apparently to a slowdown in OEM business, with media reports indicating that SanDisk eventually will loss the OEM business originally handled by Msystems before the merger. Can you explain that?
Q: Yes, we originally expected to retain a certain portion of Msystems' OEM business when we announced the merger plan. However, prices of NAND flash chips have since then become more and more aggressive, pushing us to focus more on own-brand products to keep our gross margins at relatively high levels.
In the future, the OEM business team in Israel will switch to concentrating on promotion of our own-brand products and their professional levels will also be upgraded in order to better fulfill our product strategy and help boost our sales outside the US.
Overall, we are still excited about the merger since our recent introduction of a number of new products, including SSD (solid state drive) and USBTV, are contributed by Msystems. Additionally, Msystems also helped strengthen our embedded memory technology for handset applications which, in turn, will not only broaden the coverage of our fast-growing handset business, but will also help upgrade our strategic position as a key component supplier in the global handset industry.
Q: Previously, Kingston Technology was the biggest client for Msystems. So what is SanDisk's relation with Kingston now?
A: At present our goal and strategy are aiming at supporting all of the original customers of Msystems. We have a complete lineup of NAND flash products and a streamline of management from wafer to end-products, which obviously is fitted for OEM business.
Since Kingston is the largest client for Msystems, we have continued to doing business with Kingston after the merger. Although SanDisk and Kingston are competing in branded-product business, Kingston is an important customer for us in the OEM sector and our policy is to offer full support to this client.
Q: PC applications are likely to become a major battle field for NAND flash. What is the deployment of SanDisk?
A: I think that SSD has a high development potential and is likely to replace hard disk drives (HDDs) in notebook production due to its strong features, including power-saving and fast boot. We have already launched a 1.8-inch SDD supporting 32GB for US$600 per unit and it is aiming for notebook production. For the application of SDD, 2007 will be just a beginning, with PC application having the highest potential.
Q: Don't you think that the cost of NAND flash-based notebook would be too high since a 32GB SSD is priced at as high as US$600, despite the fact that prices for NAND flash chips are declining steeply?
A: NAND flash-based products were considered too expensive to be used as storage devices for MP3 players three years ago when mini-hard drives were still the mainstream storage media. However, NAND flash-based MP3 players are currently the mainstream models in the market. Perhaps, the cost of NAND flash-based notebooks will be considered too high today, but it will looks different three years later.
The technology for NAND flash is migrating at a fast speed and the continuing miniaturizing process will bring down costs drastically. Hard drives are not shock-resistance, consume a lot of power and are too noisy. NAND flash will be the best solution for notebook production and its price will become affordable when the proportion of NAND-based notebooks increases significantly.
This interview was translated from Chinese.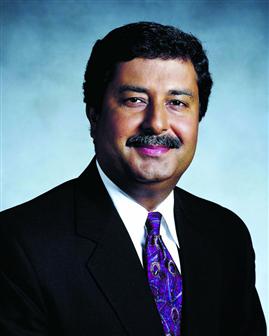 SanDisk co-founder and president, Sanjay Mehrotra